What happens if I don't reply to my daily lesson? Can I choose the reception days?
Our software system only sends a new lesson once the previous one has been completed, so that new lessons don't accumulate in your inbox. We will send you a reminder 3 days after an uncompleted lesson (depending on your reception days). You only need to reply to your latest lesson, ignoring or deleting older ones.
You can change your reception days at any time in your User Space ("Settings" > "Lesson Settings").
If you are absent for a single day, there's no need to do anything. You can complete your latest lesson without your participation rate being affected. We will send you a reminder lesson after 3 days, so there's no need to take action if you're unable to complete a lesson for a day or two.
If you will be absent for several days or unable to do your lessons for any reason, please go go through your User Space, in the "Settings" > "Lesson Settings" tab, in order to organize your lessons based on your schedule.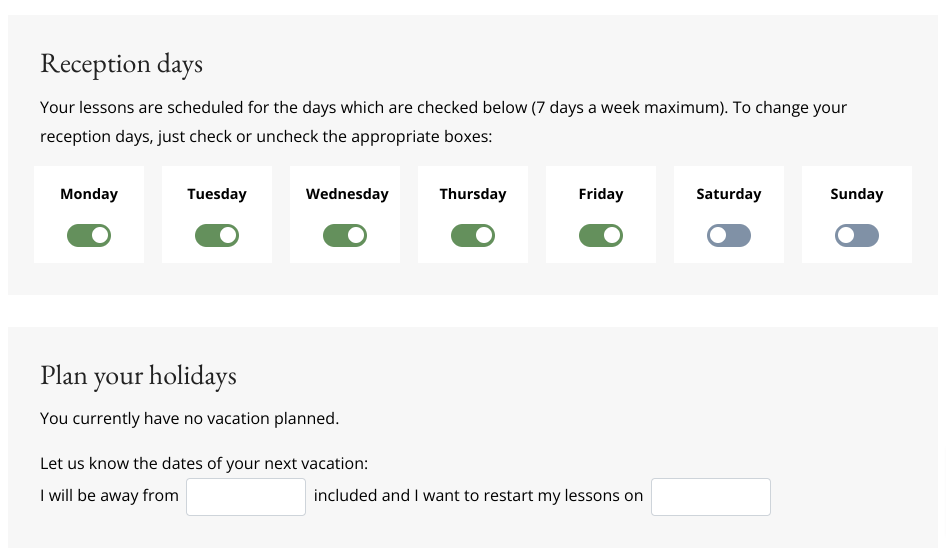 Planning your absences is important so that your participation rate is not affected, and so that you don't keep receiving reminder messages about the lessons missed in your inbox.
---